Individual Support Grantee Information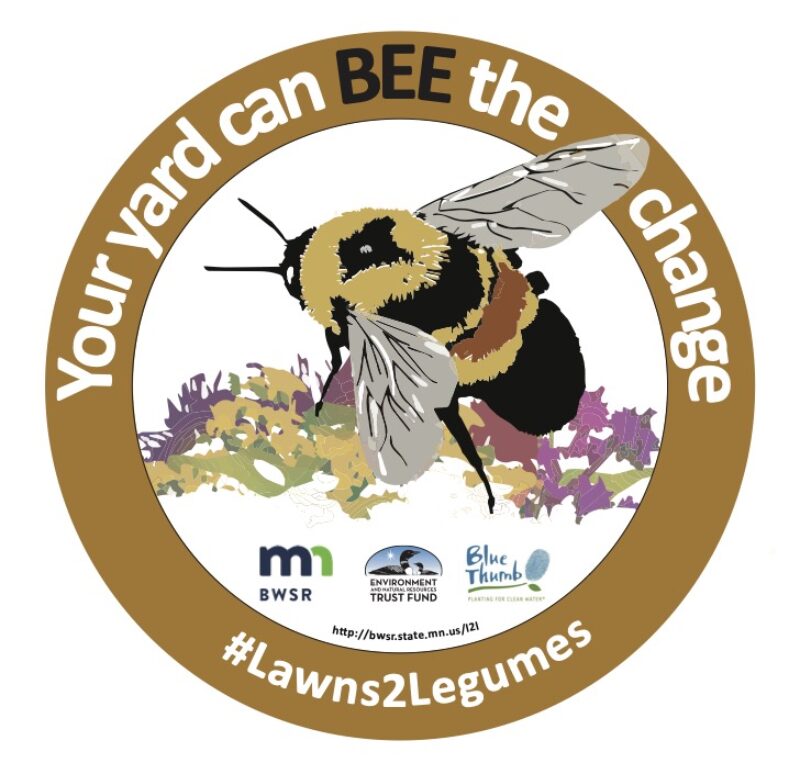 So you've been awarded a spring 2022 Lawns to Legumes grant…
Remember to complete your project by July 15. Spring 2022 grantees (those notified in March) have until July 15, 2022 to plant their project, add it to our map, and submit receipts for reimbursement.
Lawns to Legumes grantee webinars
Below is a recording of our webinar on how to plan, install and maintain your pollinator habitat project. We recorded it on 4.20.2022.
For more in information on how to complete the grant and be successfully reimbursed, you can watch this recording of our 4.6.2022 webinar about it:
Spring 2022 Grantee Logistics Webinar
Start planning…
Our suggestion? Check out the resources on the Minnesota Board of Water and Soil Resources (BWSR)'s Lawns to Legumes webpage. Make sure you have a look at the  Planting for Pollinators Design Guide. This downloadable guide covers the four project types you can choose from (pocket plantings, flowering shrubs and trees, pollinator lawns, and pollinator meadows), and provides tips on plant selection, templates to help you design a garden project, and information on caring for your plantings.
Note: Reimbursement for plants is limited to native plants, with a few exceptions. Check this reimbursable expenses doc for more information.
More helpful resources (some of these are on BWSR's Lawns to Legumes webpage):
Connect with your coach
Coaches are knowledgeable gardeners well-informed about the program. Many of them are Master Gardeners. If you notified us you that you would like a coach when you accepted the grant, you will receive more details.
Start planting…
BUT WAIT! Before you start planting, please take pictures of your project area. You need to submit before and after photos of your project to be reimbursed. When you are finished, take your after photos from a similar vantage point as your before photos so they can be easily compared. If you are requesting reimbursement for seeds, the pictures should show them after they've been sowed and sprouted (but not necessarily full-grown). Bonus points if your pictures are beautiful!
Save your receipts so you can be reimbursed
Keep copies of all your paid receipts for items related to your Lawns to Legumes project. Once you finish the work, you can submit the receipts to use for reimbursement.
Expenses eligible for reimbursement include:
Site consultation and/or design from a landscape designer (not to exceed $75 for one and $175 for both)
Site preparation (sod removal, tilling, weed control)
Purchase of native plants (with a few exceptions)
Weed suppression papers
Wood mulch
Seed and plant installation (if you choose to work with a landscaping service)
Maintenance (if you choose to work with a landscaping service)
You can find a more detailed list of reimbursable expenses here.
You finished your project and took your final pictures. Now what?
When your project is complete, submit your photos, receipts, and other documentation on the Reimbursement Page. Please take your time filling it out. Missing information or mistakes can lead to delays in receiving your reimbursement and your Lawns to Legumes garden sign.
Lawns to Legumes Downloads
Lawns to Legumes Grantee Questions
This form is for the sole use of confirmed Lawns to Legumes grantees—others who submit questions through it are offered no guarantee of a response.
"*" indicates required fields
Frequently Asked Questions
I ordered plants or project materials before I was notified of my grant. Can I still be reimbursed for it?
Unfortunately, no. We are only allowed to reimburse you for receipts containing eligible expenses that are dated on or after the date of your notification. For the Spring 2022 cohort, that date is March 26th, 2022.
How do we work with neighbors that use pesticides?
Sharing information with neighbors may help them realize the potential benefits of using alternative management techniques. Alerting neighbors that harmful insecticides, like neonicotinoids, can have negative lethal and sublethal effects on bees may convince neighbors to refrain from using these products. Also, providing neighbors with resources that show them where they can purchase pesticide-free plantings can be helpful. Wild Ones has a comprehensive list of pesticide-free plant providers here.
Is there any limit to where in your yard you can install plant projects? Boulevards, sides of garages, etc.?
For the most part, you are free to install plantings in your yard as you see fit. For boulevard plantings, you may need to consult with your local government and request their permission (take a look at local ordinances in your community) to install an alternative planting in the boulevard. For plantings along a fence, or near a neighboring property, it may be worthwhile to install edging, or take some measures to ensure that plantings do not spill over into neighbors' yards. Any exposure the site has to road salt, and the general condition and soil moisture of boulevards and along alleyways, should be considered when selecting plants.
What are the requirements of the seed mixes used? Are you requiring specific species, specific recipes, or specific vendors?
Lawns to Legumes plantings must:
include Minnesota native species, sourced from 175 miles from one's location, or closer (with the exception of pollinator lawns).

have at least three species blooming per season in the spring, summer, and fall to ensure diversity.

be free of treatment by neonicotinoid insecticides.

Will the program cover the rock barrier to line a back lawn to prevent spread to neighbors?
Yes, edging, like rock barriers, will be an eligible expense for reimbursement as long as they are not using up the majority of the funding. Edging helps to communicate the intent of a project and can facilitate maintenance.
Is Dutch white clover really a robust resource for the rusty patched bumble bee?
Over 50 species of bees have been observed foraging on this plant. Although we are yet to observe a rusty patched bumble bee on Dutch white clover in Minnesota, it is listed as a known plant food source, according to the Ontario recovery plan for the bee.
Instead of expanding a plant bed, could I replace one with native plants? I have a plant bed that is only hostas.
Yes, that would be an eligible expense.
Can plantings be started from seed?
Yes, Lawns to Legumes plantings can be started from seed. Please be sure to use a native seed provider who does not treat their seeds with harmful insecticides like neonicotinoids. And note that native plants from seed may take 3–5 years to fully establish.
Should we keep Creeping Charlie and dandelions? Or eliminate all of that when we install these pocket gardens?
While Creeping Charlie is a forb that bees will occasionally visit, the quality of its resources to bees is rather low. Further information on Creeping Charlie and its value to pollinators can be found here. Dandelion is a strong nectar source for pollinators that can be left within plantings if residents do not mind the aesthetics and aggressive nature of the plant.
How can I find a designer to help me with my garden? I want to take on a big project.
You can be connected with a designer by attending a Lawns to Legumes individual support workshop. You may also be connected to someone with design experience by contacting your coach, who will be assigned to you after you are awarded a grant. Individuals who do not receive an individual support grant, but are still interested in receiving design help can contact landscape designers by visiting the Blue Thumb Partner Finder.
Is fine fescue okay to use for a bee lawn if you have dogs?
Fine fescue is sensitive to wear-and tear-damage, especially abrasion. If a lawn is heavily used by dogs, where abrasion is commonplace, a homeowner may be better off using either Kentucky bluegrass, or a mix of bluegrass and fescue in a bee lawn mix. You could also temporarily fence off a section of yard until the project gets established.
I have a couple of large mulched perennial gardens that have primarily native plants. I'm thinking about a native pocket planting to fill out plant diversity. Is there any sort of documentation (pictures, etc.?) I should gather ahead of time?
Providing before-and-after pictures will serve as adequate reporting. In your instance, specifying the new species that have been added to your planting would be beneficial.
Glossary of Terms
L2L Lawns to Legumes
L2L Demonstration Neighborhood one of the community-based projects run by local government or organizations in cooperation with BWSR.
L2L Individual Support Cost Share a reimbursable grant up to $350, with grantees selected from entries to this form on bluethumb.org.
Reimbursable Expenses Cost-share recipients can be reimbursed for any eligible expense. Work related to non-native species, unrelated landscaping, or projects conducted prior to receiving cost-share approval do not qualify for reimbursement.
BWSR Minnesota Board of Water and Soil Resources, the state agency coordinating the Lawns to Legumes program.
Planting Project Types