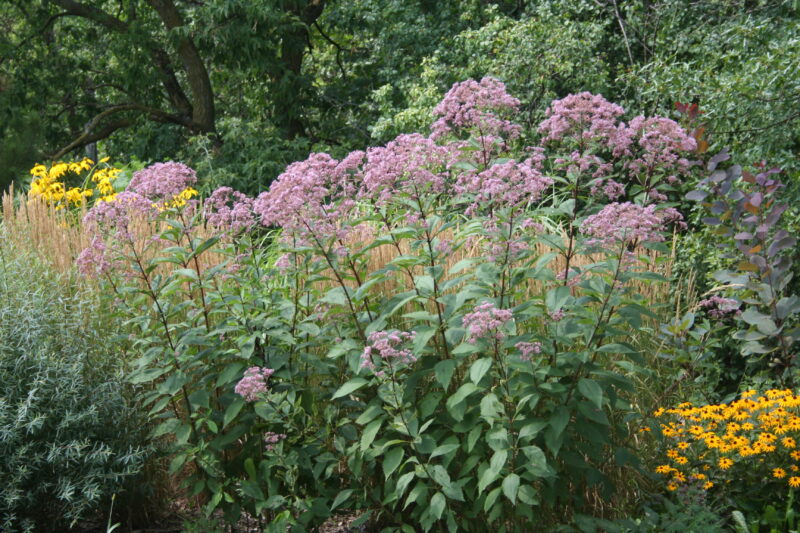 Type:

Light Exposure:

Soil Moisture:

Height:

5 to 6 feet

Project:

Bloom Color:

Bloom Months:

Flooding / Inundation Tolerance:

Salt Tolerance:

Stress Tolerance:

Herbivore Sensitivity:

Behavior (Rate of Spread):

Pollinator Value:

Benefit to Pollinators:

Pollinators:

Beetles, Bombus, Butterflies, Flies, Honey Bees, Larval Host (Butterfly), Larval Host (Moth), Monarchs, Moths, Native Bees, Wasps

Counties:

Aitkinin, Anoka, Becker, Beltrami, Benton, Big Stone, Blue Earth, Brown, Carlton, Carver, Cass, Chippewa, Chisago, Clay, Clearwater, Cook, Cottonwood, Crow Wing, Dakota, Dodge, Douglas, Fillmore, Goodhue, Grant, Hennepin, Houston, Hubbard, Isanti, Itasca, Jackson, Kanabec, Kandiyohi, Kittson, Koochiching, Lac qui, Lake, Lake of the Woods, Le Sueur, Lincoln, Lyon, Mahnomen, Marshall, Martin, Mille Lacs, Morrison, Mower, Murray, Nicollet, Nobles, Norman, Olmsted, Otter Tail, Pennington, Pine, Pipestone, Polk, Pope, Ramsey, Red Lake, Redwood, Rice, Roseau, Scott, Sherburne, Sibley, St. Louis, Stearns, Steele, Stevens, Swift, Todd, Traverse, Wabasha, Wadena, Waseca, Washington, Wilkin, Winona, Wright, Yellow Medicine
Notes/Description:
Robust, native perennial herb, usually 1-3' tall with 1 to several stems. Used in restorations, vegetated swales, shorelines, lake edges, wet prairies and gardens. It is an attractive plant, well suited for the perennial garden, rainwater garden and landscape where height is allowed. It prefers calcerous and heavy soils and is usually a good addition to a prairie garden. This species may become aggressive, which may be preferable in some situations. Also, many cultivars or varieties are available, which may work in a landscape design but are not well suited ot restorations.