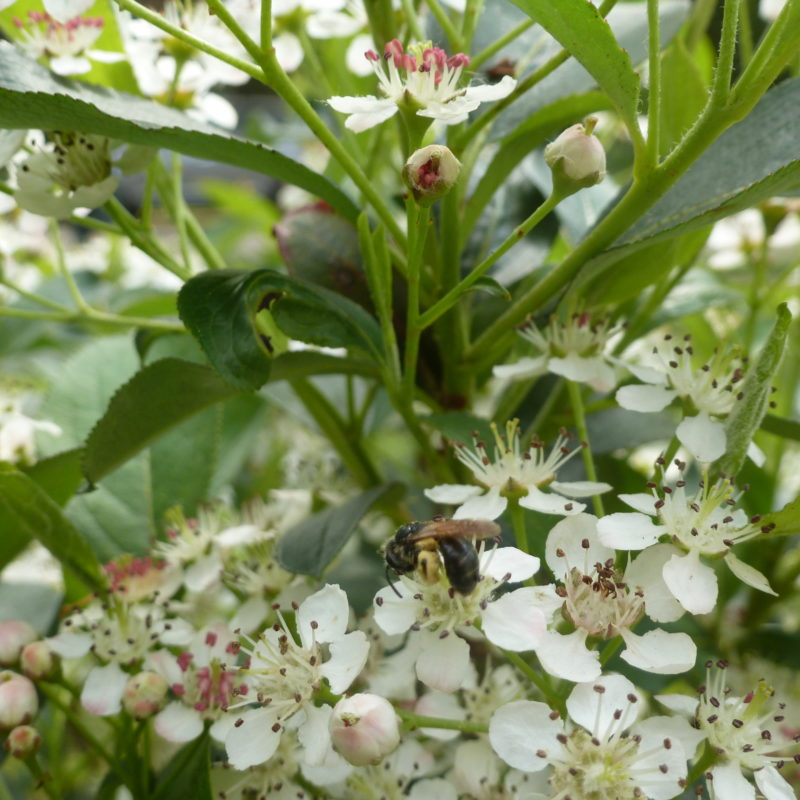 A Lawns to Legume Story
Another participant project from Lawns to Legumes, a Minnesota Board of Water and Soil Resources program supporting residents to create pollinator habitat in their yards through cost-share grants and other resources.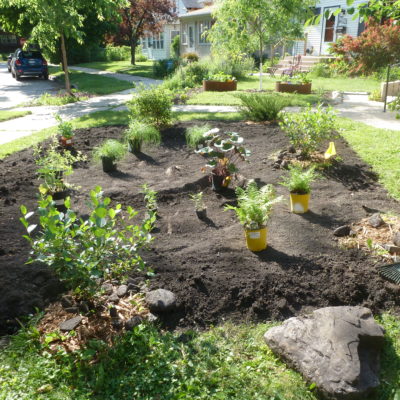 I had the good fortune to move next door to a landscape architect. Though retired, she was willing to take on small design projects for friends and neighbors. She and I had been collaborating on a plan for a pollinator-encouraging garden also capable of filtering water that feeds into the nearby Mississippi River. Unexpectedly, this gave me some parameters when the opportunity arose to apply to the Lawns to Legumes cost-share program.
Though I've been a gardener of sorts throughout most of my life, like everyone I have my knowledge gaps, as well as a tendency to buy based on price and aesthetics and figure out what to do with plants later. Though this has resulted in biodiverse gardens situated in the midst of urban concrete, it has also been a labor of love that's overly wearing when one becomes AARP-eligible.
Between the November 2019 application deadline and March 2020, when notified of my selection for Lawns to Legumes funding, the world changed. My work with university undergraduates became home-based and, like many others, I was intensely focused on the sudden transition to distance-learning under COVID.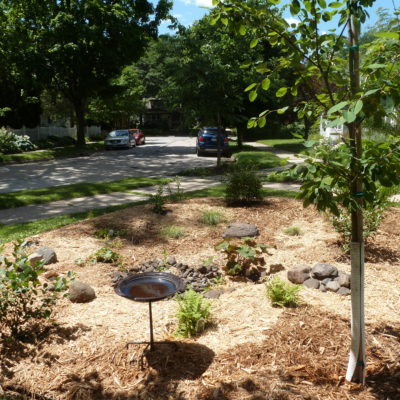 Thankfully, the Cities are in a Zone 4 growing region, meaning that my approved plan didn't have to be implemented until the end of the academic year. Work resumed after virtual commencements. I confirmed utility lines and neonicotinoid-free growers, ordered some trees and shrubs for delivery and – shielded in homemade mask, plant/shrub list in sanitized hands – purchased the rest at local nurseries.
Then the plants sat, potted, on a shadier side of the house, while I pondered how best to remove 220 square feet of lawn that hadn't been solarized the year prior. The turf, consisting primarily of a thick mat of creeping Charlie interspersed with clover, dandelions and plantain, and sub-turf realms notorious for harboring large river rock, made me question the wisdom of a sixty-something-year-old beginning this journey armed with a shovel. But COVID considerations prevented timely contact with landscapers, and the thought of wrestling a 185-pound gas-powered rental sod cutter into the trunk of a car was equally daunting.
Though my weight-lifting sixtyish partner would have helped wrangle a sod cutter, shovels remained our weapon of choice. With our landscape architect neighbor's plan, along with a borrowed conversion ruler and spray paint, we outlined the kidney-shaped garden, marked where to put the plantings, and dug in. Our neighbor loaned us Korean hand plows that efficiently cut away the turf from the earth.
Serviceberry tree, chokeberry and snowberry shrubs, blue globe spruce, perennials — lady ferns, turtlehead, prairie clover, oak sedge and prairie dropseed — were all planted, along with some non-native companions. Then we moved to the next and less challenging task of rerouting water from a downspout. Rain events had occurred throughout digging, so we knew the soil was absorbing water well. We removed an inefficient section of downspout and put in a catch basin and shallow trench to transport rainwater to the lowest point in the garden, to moisture-loving turtlehead and ligularia. It was truly satisfying to see a successful trial run of water from a garden hose, and within days the aftereffects of an actual downpour.
Likewise, I took great pleasure in the final touches of installing the border and mulching. Bees arrived with the serviceberry blooms, followed by berry-seeking robins. Neighbors walking dogs, children or elders stopped to ask questions about the purpose of a raingarden, to admire the overall transformation of unused lawn or simply interact beyond weeks of isolation.
I look forward to seeing the garden as it evolves in coming years, and thank Lawns to Legumes, partner Josh, and neighbors, Laurie and Melissa, for inspiration and support in its establishment.
— By Karen Moon
(Photos provided by Karen Moon)