Are you a Lawns to Legumes grantee? This guide is for you!
Step 1: Getting Started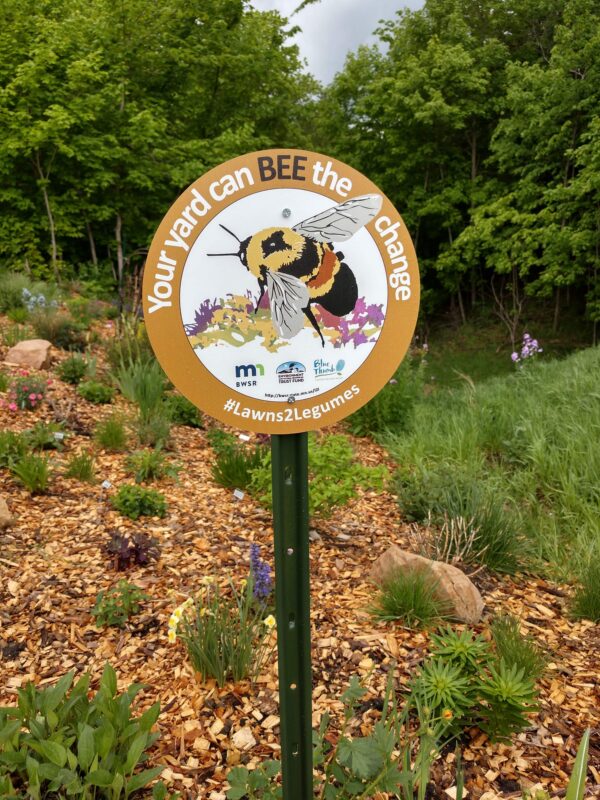 Confirm your participation in the program! Follow the link that was emailed to you to accept your grant.
Before you start your project, remember to take "before" photos of your project area. You will need to take "after" images once your project is completed. Before/after photos of your project are required for reimbursement.
Attend a grantee training webinar (you will be emailed details) or watch a webinar recording (see below).
All grantees will have access to "The Hive!" The Hive is a new community platform for grantees to connect. You will receive an email to access The Hive. Connect with each other in your region's "space," share resources, get answers from coaches, and get program updates from L2L staff.
Watch our 2023 Spring Grantee Kick-off webinar
Step 2: Plan and Install Your Project
Step 3: Complete your Project!
When your project is complete, submit your photos, receipts, and other documentation on our reimbursement page.
Please be patient as we send out your check and sign. There may be delays, but we are doing our best to review and approve reimbursement requests as they come. Once you receive your check, please deposit it within 90 days or your check will be voided.
Map your completed project so we can share the impact of our collective work on protecting the pollinators.
Frequently Asked Questions
What is eligible to be reimbursed?
See the list of Eligible Expenses and Acceptable Vegetation. To summarize, 70% of your $350 grant must be used to purchase native plants and vegetation. 30% of your grant can be used on other expenses such as contractor work, renting equipment, mulch, etc. Please make sure you are not purchasing a cultivar or hybrid of a native plant.
Is there a way to have my list of plants confirmed before buying them?
Search for your plant on minnesotawildflowers.info.
If you do not find it on there, it probably is not a true native plant. You can also prevent purchasing cultivars and hybrids if you build your plant list off of our plant list resources on our website.
If you are really unsure about a few plants, you can email us at the helpline, but we do not have the capacity to go through your entire list.
What needs to be filled out in order to be reimbursed?
After your project is completed, you will need to fill out this form.
You will need your before and after pictures and your receipts. If your receipt does not list the scientific name, please take photos of your plant tags so we can identify the plants.
Is there a particular number of plants I need to plant? Is there a minimum size the garden needs to be?
It would be best if you had plants that bloom in every season to ensure pollinators have habitat year-round, so we recommend aiming for 12 different native plants. There is no minimum size or number of plants you need to have.
Your match can be monetary or in-kind time. The in-kind time includes all the work you put into your project. This includes planning, site prep, attending a workshop, and the installation of your project.
Can I be reimbursed for hiring a contractor to complete my project?
Work done by contractors may qualify for reimbursement as long as the services fall under the list of eligible expenses. The resident must be approved for the grant before any expenses can be requested for reimbursement. Keep in mind, 70% of the grant must be used on native plants and trees/shrubs. Only 30% of the grant can be used on contractor services. This includes design work, site prep, and installation.
What do I do if I receive a grant, but no longer can complete a project?
Can I apply again for another grant?
At this time, we are not awarding second grants until everyone who applied has received one. Thank you for your interest! We hope you will still continue adding pollinator habitat to your space.
I purchased project materials before I was notified of receiving a grant. Can I still be reimbursed?
Unfortunately, no. We are only allowed to reimburse you for receipts containing eligible expenses that are dated on or after the date of your notification.
Why hasn't my check arrived yet?
We ask for your patience when waiting for reimbursement. Our team personally goes through each entry and reviews it for approval. As the timeline gets closer to the deadline, there will be a longer delay in getting requests approved. After requests are approved, checks are written and sent out.
Why did I not get the full amount I requested?
Our team carefully goes through each receipt and image to determine the reimbursement amount. It is your responsibility to make sure your items are eligible for reimbursement.
Can I add to an existing garden?
Yes! You can plant in multiple areas as part of the grant. Just make sure it is clear in your photos where you added the new additions. Your existing garden does not have to be native, but all new additions under the grant must be.
Can I do multiple projects with my grant?
Yes, as long as you can show all projects in your before and after photos. You can only submit a maximum of 4 before and 4 after photos.
Can I combine another grant with my Lawns to Legumes grant to fund my project?
Yes. Please indicate on your receipts which portions of your project you are requesting Lawns to Legumes reimbursement.
Can I purchase signs to put in my pollinator garden?
No, but every grantee who completes their project receives a free sign when they are reimbursed.
How do I protect my plants from rabbits and deer?
We recommend wire or mesh nets and cages to prevent them from reaching your plants.
How do I find a native plant supplier?
Do I have to buy materials from any specific nursery?
No, but plantings must be Minnesota native species, sourced from 175 miles from one's location, or closer (with exceptions mentioned here).
Can I add non-native plants to my project?
Yes! Feel free to add any plants you want; however, non-natives plants won't be reimbursed (exceptions are mentioned here).
Can I start a project from seed?
Yes, Lawns to Legumes plantings can be started from seed. Please use a native seed provider who does not treat seeds with harmful insecticides like neonicotinoids. And note that native plants from seed may take 3–5 years to fully establish.
Where can I sign up for email updates on L2L?
Once a habitat is established at a residence, is it protected by law?
You should let your local government know of your new habitat. We ask all project participants to agree to maintain their plantings for at least three years to the extent possible. In the event that a resident sells their If you sell your residence, we ask that you communicate the intent of the landscape with the new resident and let us know you are moving so we can also share information about its importance and how to manage it with the new owner.
Where can I learn more about the Minnesota state bee, the rusty patched bumble bee?
Where can I learn more about monarch butterflies, Minnesota's state butterfly?
If you can't find the information you are looking for, email us at L2Lhelp@bluethumb.org.