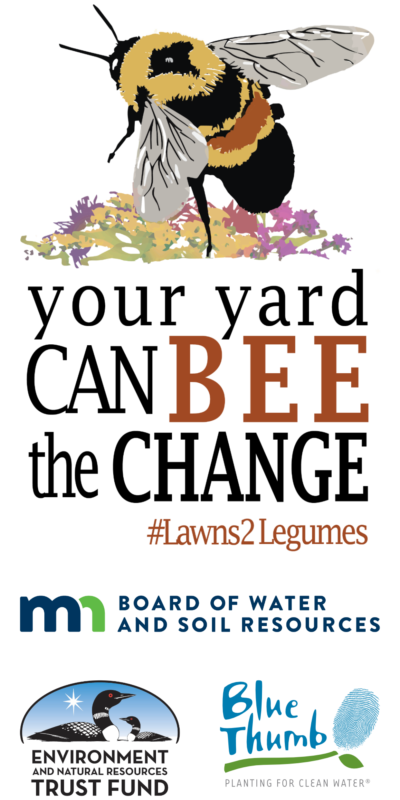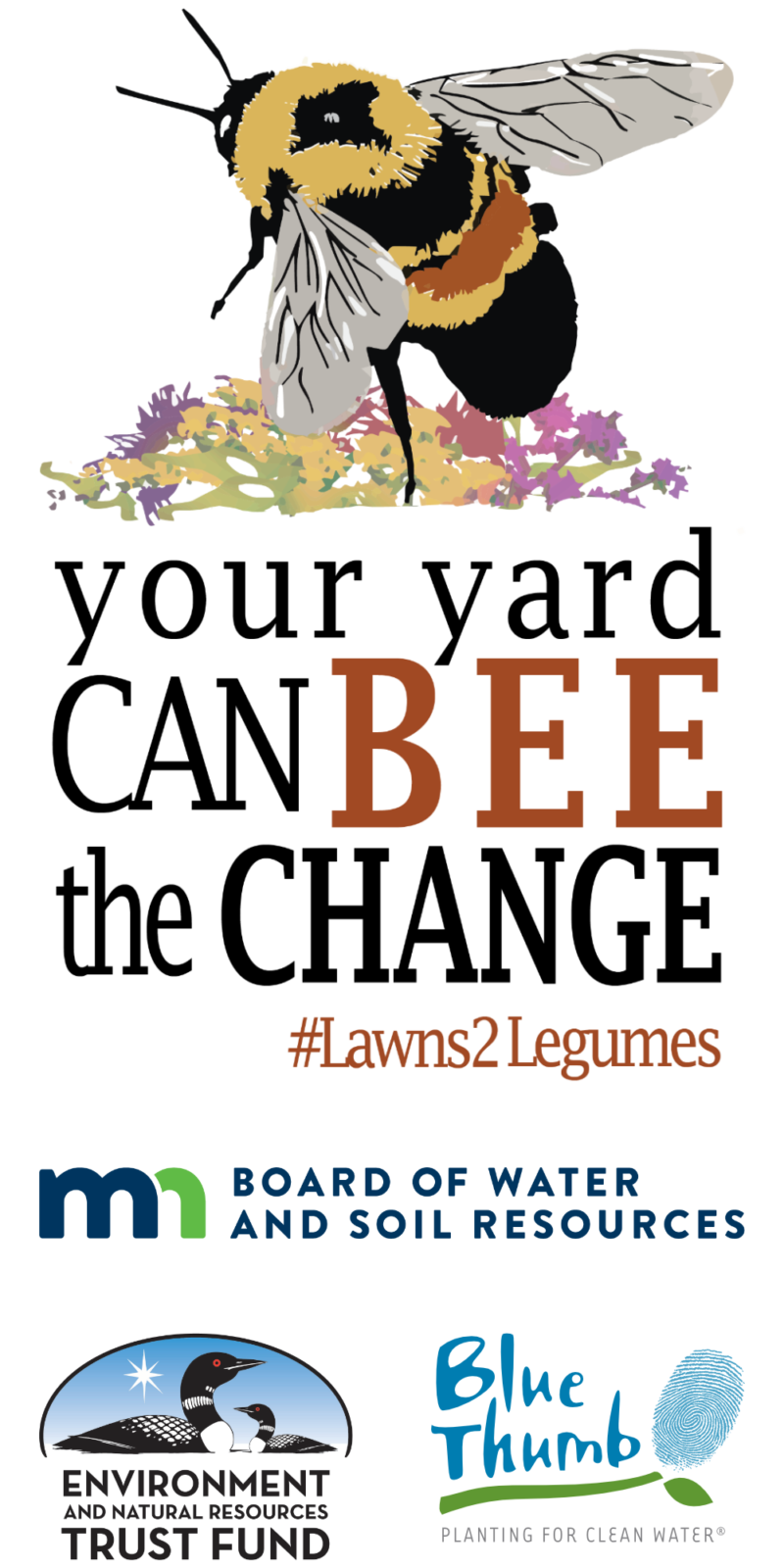 Lawns to Legumes, a Minnesota Board of Water and Soil Resources (BWSR) program, provides individual cost-share grant funding and other resources to help Minnesota residents establish pollinator habitat in their yards. Blue Thumb coordinates the individual cost-share part of the program, supporting grant recipients to put in pocket plantings, trees and shrubs, and pollinator lawns and pollinator meadows to help conserve at-risk species. A key focus is to protect the endangered rusty patched bumble bee, the Minnesota state bee. The most recent cost-share application round closed on Feb. 15, 2022. However, L2L also provides many resources, below and on the BWSR website, for anybody who wants to get started on a pollinator habitat project.
Minnesota is home to more than 450 native bee species and other species — including butterflies, moths, beetles, hummingbirds, and flies — that play a key role in pollinating many food crops and native plants. Many populations have declined worldwide in recent years due to habitat loss and related lack of nutrition, as well as pesticide use and pathogens. The planting projects in this program provide opportunities for almost anyone who wants to do a project. Even small plantings of native flowers can help pollinators by connecting important habitat corridors!
Who does this program help? Minnesota residents and pollinators!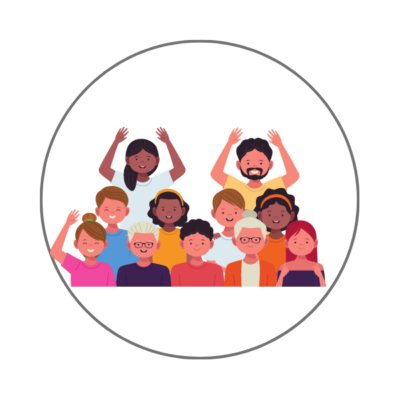 Many Minnesotans want to take action to protect bees, butterflies and other pollinators! Lawns to Legumes helps people with this, providing free resources to help them plan projects and cost-share grants to help pay the costs of creating habitat in their yards.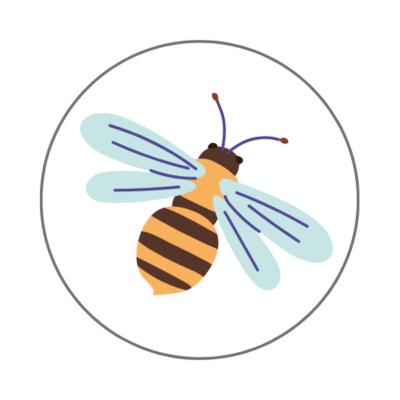 There are more than 4,000 bee species in the United States, including more than 450 native species in Minnesota. This program creates habitat for our pollinators including the endangered rusty patched bumble bee! Some L2L participants have seen the rusty patched in their new plantings!
People are taking action! Participants have: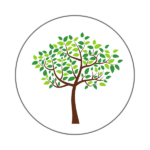 Planted more than 1000 trees and shrubs, an important early-season source of forage for many bee species.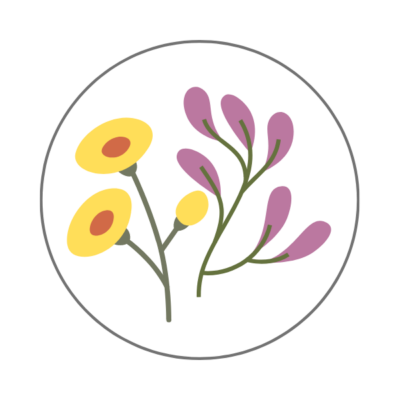 Created more than 1.2 million square-feet of pollinator habitat. This includes pocket plantings, pollinator lawns and pollinator meadows.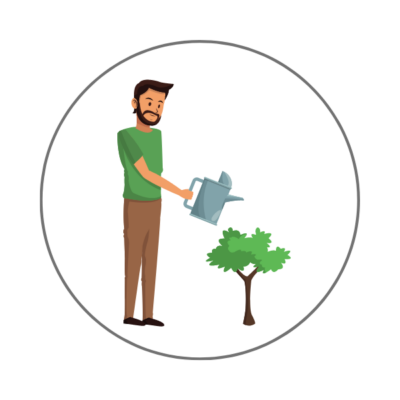 Spent many thousands of hours on planting projects to protect pollinators in their yards.
---
More about Lawns to Legumes
The individual support program is only one part of a larger initiative. There are two other components:
Demonstration Neighborhoods
Community Building through public outreach
Learn more from the Minnesota Board of Water and Soil Resources.
---
Frequently Asked Questions
Where can I sign up for email updates on this program?
Is there a plan to measure the benefit to the pollinator population that this initiative may bring?
BWSR and partners collaborating on this project are still determining the best ways to measure the benefits and impacts of this project. For now, we encourage interested individuals to post pictures of bumble bees they observe visiting flowers on bumblebeewatch.org. An expert on the back end will then identify the bee species. This will help us determine if and where the Rusty Patched Bumble Bee is present throughout the state of Minnesota.
Once a habitat is established at a residence, is it protected by law?
We ask all project participants to agree to maintain their plantings for at least three years to the extent possible. In the event that a resident sells their residence, we ask that the project participant communicates the intent of the landscape with the new resident and let us know they are moving so we can also share information about its importance and how to manage it with the new owner.
How can humans/bees live peacefully? Are there certain times of day bees are most active? What can I do?
The best way to share your yard space with pollinators is to choose a planting option that only takes up part of your yard, rather than the entirety of it. A native pocket planting only requires a small portion of your yard, and still leaves plenty of room for recreation. For the most part, bees are not aggressive and prefer to keep to themselves. They are most active during the warmest parts of the day, between 10 a.m. and 4 p.m. Wasps are generally more aggressive than bees, while bees will generally keep to themselves unless you interact with them directly.
To avoid getting stung, follow these tips:
Wear close-toed shoes in areas where you think bees may be present.
Refrain from interacting with bees when you see them feeding on a flower. Bees may become aggressive if they feel threatened while feeding.
If you want to lessen crossing paths with bees, try to keep your flowering plants in an isolated area of your yard. A raised bed garden is a great example of how to accomplish this.
Do these habitats also increase nuisance insects like wasps and hornets?
These plantings will be attractive to various species of wasps, including hornets. While some may view these insects as a nuisance, they do provide value to our ecosystems as pollinators and as members of the food web.
Can I be reimbursed if I hire a gardening company to create my pollinator garden?
Work done by contractors may qualify for reimbursement as long as the services fall under the list of eligible expenses outlined in the individual support grant application page. The resident must be approved for the grant before any expenses can be requested for reimbursement.
How long do I have to install a planting?
After grants are awarded, successful applicants will be given a year to install their plantings.  This will ensure that all planting options will be feasible for those awarded funding.
---
Planting Project Types