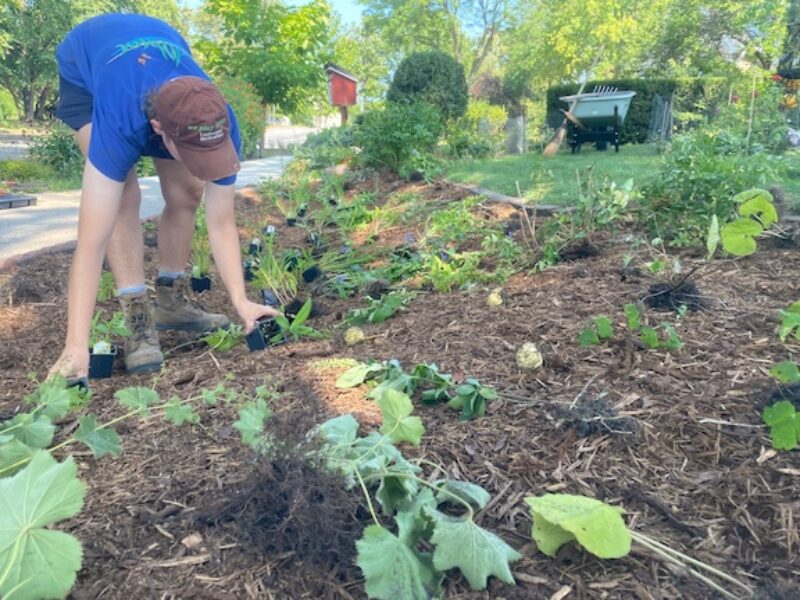 Cooler mornings, yellow-tinged leaves—the first signs of fall are in the air. As summer's blooms begin to wane and the warm hues of goldenrods and grasses take their place, it may be tempting to pull out those blankets from the closet and make a cozy beverage. But late summer and early autumn can be one of the most effective—and pleasant—times of year to get outside and plant native perennials! We spoke with Jennifer Ehlert from Metro Blooms Design + Build and Marsha Frey from Mother Earth Gardens about some of the advantages of autumnal planting. 
A set-up for success
At this time of year, the soil is still warm, but plants no longer deal with the stress of hot temperatures. This triggers plants into moving their energy from their branches and leaves to their roots. "By planting in the fall, plants are going to focus more on developing their roots," says Ehlert. A robust root network gives plants a strong foundation to survive through the winter and emerge well-established in the spring.
"It's like a head start for spring-blooming plants," says Frey. She advises planting at least 6 weeks before the ground freezes—and for spring ephemerals, the earlier, the better. To ensure that plants make it through the winter, Frey also advises making sure that spring-blooming plants being planted in the fall have visible root development in their pot. 
"Bee lawns are also really great to start in the fall," says Frey. According to Frey, the three best times to plant grass seed are spring, fall, and early winter for dormant seeding before the first snow. If planting a bee lawn in the fall, the flowers and fescues will have enough time to germinate and develop roots before the ground freezes. 
Without the worry of hot spells and plants drying out, planting in fall also means less watering. "Once a plant is in the ground you don't need to water as frequently in the fall," says Frey, "but when you're first planting it is important to water the pot and the hole well." 
Should you mulch around newly planted plants to help retain moisture? Not fully right away, says Frey. "It's helpful not to mulch until later in the season, because the warmth of the October sun will help plants with root development." She suggests waiting to apply mulch until night temperatures start dropping to 32 degrees Fahrenheit and the ground starts to freeze. Otherwise, freeze-thaw cycles in the soil can cause plants to raise from the ground and puts them in danger of being killed by the cold. Incorporating ground cover like mulch, leaf litter, and other discarded plant material in your yard also provides important habitat for insects and other critters trying to make it through the winter.
Getting things started
Fall can be a good time for both starting a new project or refining an existing garden. Frey notes that because most plants are visible in late summer, it's easy to assess a garden—where are there empty spots, or where might a short or tall plant be needed to make an area feel complete?
"Just getting everything ready to plant in the spring is fine, too," says Frey, pointing out there are a lot of steps to projects like building a new rain garden. It takes time to set it all up—getting your soil amended, bringing in rocks, shaping the rain garden—and making plans in the fall can save time in the spring for doing the bulk of the labor.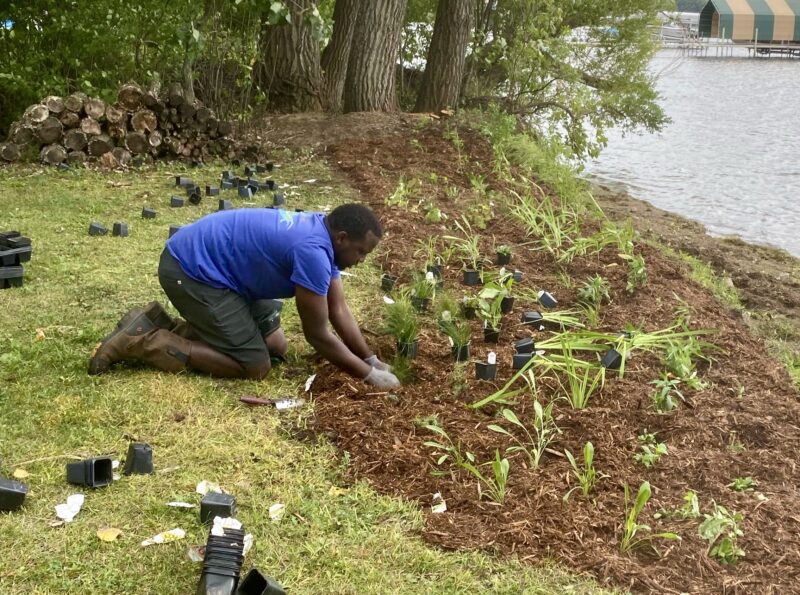 But if you're eager to get some plants started in fall, where do you find them? "Native plants have become really popular, so nurseries can become out of stock of certain plants by the fall," says Ehlert. "But then again, some things go on sale." 
"Mother Earth Gardens carries 200 varieties of natives plants," says Frey, "and by the fall we might have a hard time getting 20-30 of those." But as Frey points out, there's a reason why plant nurseries stay open through the fall—it's still a great time to plant! If a nursery doesn't carry a preferred variety, she says, you can always try an alternative or wait and leave a spot in your garden to plant in the spring. 
Once you have your plants in the ground, be ready to embrace the "natural" look. A fall rain garden or pollinator planting may not look as fresh and pristine as a spring one. "Some plants you pick may not look as good right now, and it doesn't matter!" says Frey. "Plant it like planting any other beautiful green plant, because right now it's all about taking care of the roots." 
What to plant
Are there some native perennials that are better to plant in the fall compared to the spring?
Not necessarily, says Ehlert. "Some plants would just be more difficult to plant now." For example, spring ephemerals like Virginia bluebells and bleeding hearts completely die back by fall, so it's harder to source them this time of year. "I would also hesitate to plant larger shrubs or trees because their roots take longer to get established," she adds.
But for everything else? "I always tell people to just go for it!" says Frey. "Fall is a great time to get started." 
— Megan Reich, Marketing and Communications Specialist, Metro Blooms. Metro Blooms manages the Blue Thumb program.
Additional Resources