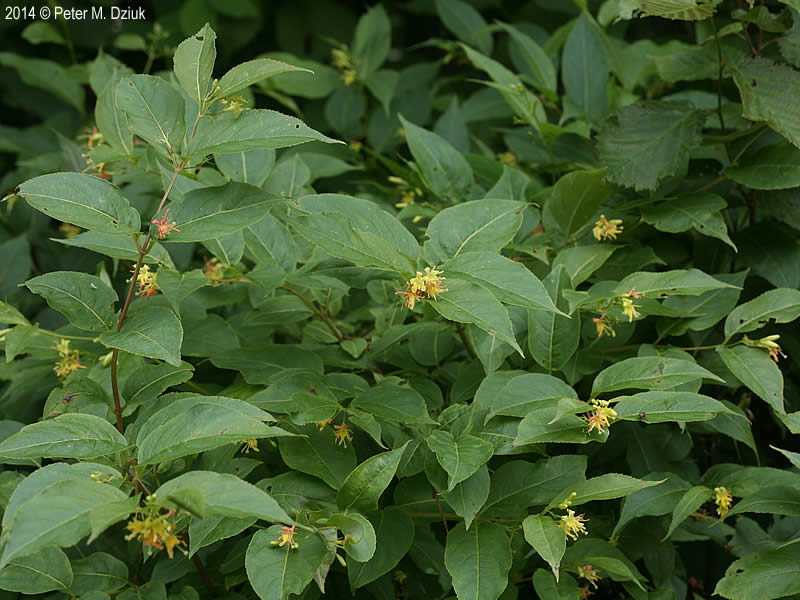 Type:

Light Exposure:

Soil Moisture:

Height:

4 feet

Project:

Bloom Color:

Bloom Months:

Flooding / Inundation Tolerance:

Salt Tolerance:

Stress Tolerance:

Herbivore Sensitivity:

Behavior (Rate of Spread):

Pollinator Value:

Benefit to Pollinators:

Pollinators:

Counties:

Aitkin, Anoka, Becker, Beltrami, Benton, Blue Earth, Carlton, Cass, Chisago, Clearwater, Cook, Crow Wing, Dakota, Dodgee, Douglas, Fillmore, Goodhue, Hennepin, Houston, Hubbardard, Isanti, Itasca, Kandiyohibec, Kittson, Koochiching, Lake, Lake of the Woods, Marshall, Mille Lacs, Morrison, Mower, Norman, Olmsted, Otter Tail, Pine, Polk, Pope, Ramsey, Rice, Roseau, SCottonwood, Sherburne, St. Louis, Stearns, Todd, Wabasha, Wadena, Washington, Winona, Wright
Notes/Description:
One of the most popular native shrubs, dwarf bush honeysuckle grows well under a wide range of growing conditions with a nice 3'x3' shape, taller in sun. It spreads by runners, and some gardeners may want to pull or cut them to avoid excessive spreading. Small, native, mounded shrub 1-3' tall and less than 3' wide, often forming thickets. Suited for mass plantings, erosion control, woodland and shade plantings, forest restorations and reestablishment after fire or clearcut. Established plants can be pruned in early spring before growth begins or right after flowering.