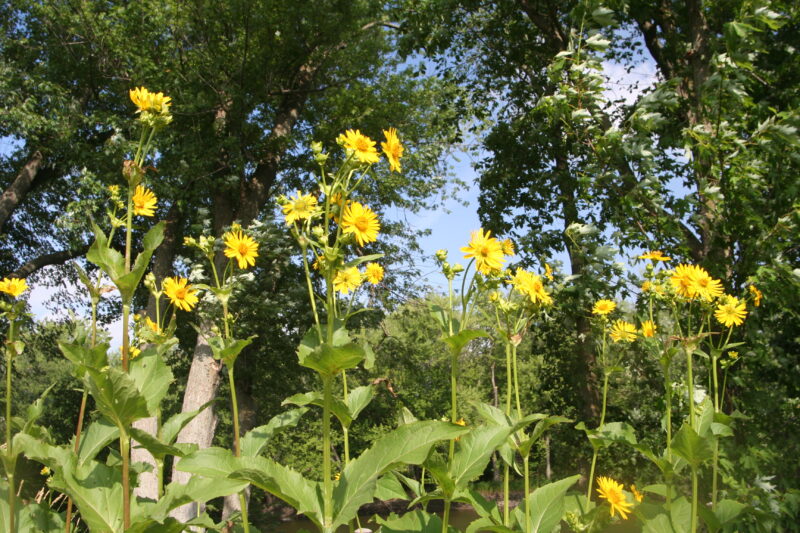 Type:

Light Exposure:

Soil Moisture:

Height:

10 feet

Project:

Bloom Color:

Bloom Months:

Flooding / Inundation Tolerance:

Salt Tolerance:

Stress Tolerance:

Herbivore Sensitivity:

Behavior (Rate of Spread):

Pollinator Value:

Benefit to Pollinators:

Pollinators:

Beetles, Bombus, Butterflies, Flies, Honey Bees, Larval Host (Moth), Monarchs, Moths, Native Bees, Nesting and Structure (Bees), Wasps

Counties:

Anoka, Big Stone, Blue Earth, Brown, Carver, Cottonwood, Dakota, Dodge, Faribault, Fillmore, Freeborn, Goodhue, Hennepin, Houston, Jackson, Kandiyohi, Lac qui, Le Sueur, Lincoln, Lyon, Martin, Meeker, Mower, Murray, Nicollet, Nobles, Olmsted, Pine, Pipestone, Ramsey, Redwood, Rice, Rock, Scott, Sherburne, Sibley, Stevens, Swift, Wabasha, Waseca, Washington, Watonwan, Winona, Wright, Yellow Medicine
Notes/Description:
A robust, native, perennial herb, usually 4-6' tall, with sunflower-like heads up to 4" across and unique leaves that form a "cup" that holds rainwater, hense its common name. Used in wetland and prairie restorations. It has also been used for shoreline, buffer and vegetated swale and stabilization. It is also an ideal plant for the background of rain water gardens.