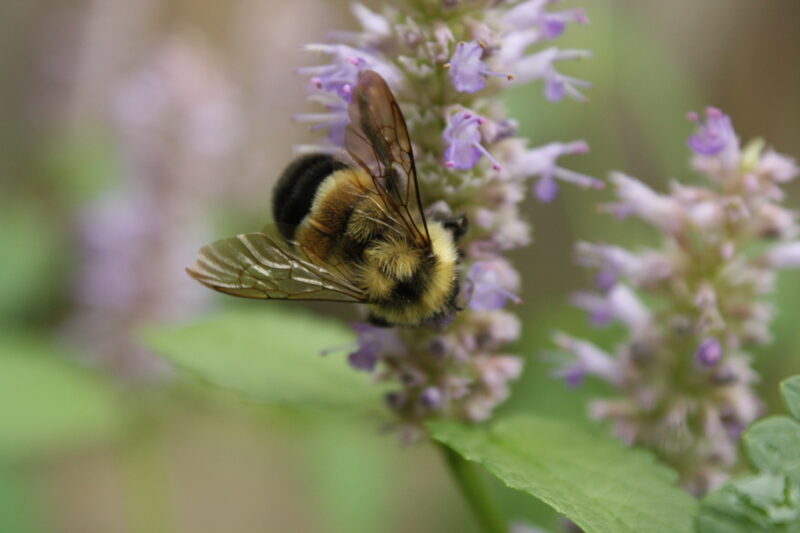 Lawns to Legumes projects have kickstarted countless neighborhood conversations around planting for pollinators. 
"We had so many people pass by while we were working," one participant shared. "I am inviting my neighbors and friends to see my native garden now and next spring," another grant recipient shared.  "I hope this inspires them to plant native plants!"
In their yards, gardens, and lawns, Minnesotans across the state are building a movement to protect pollinators, with help from Lawns to Legumes. Lawns to Legumes is the first statewide program of its kind, providing residents with cost-share funding of up to $350 and technical assistance to create habitat in their yards to help our native pollinators — including at-risk species like the rusty patched bumblebee and the monarch butterfly.
Since its start in 2019, participants—everyone from first-time gardeners to seasoned green thumbs—have created 32 acres of pollinator-friendly native plantings. Working together, we have installed over 1,260 projects and planted 1,958 native trees and shrubs, with participant applications from 85 of 87 counties in Minnesota!
A Minnesota Board of Water and Soil Resources (BWSR) program, Lawns to Legumes is funded by the Environment and Natural Resources Trust Fund through the Legislative Citizen-Commission on Minnesota Resources (LCCMR). Blue Thumb manages the individual grant program for BWSR and we have teamed up with many other partner organizations to provide resources, workshops, and coaching to participants.  
Between 2020-2022, we completed Lawns to Legumes's pilot phase across five cohorts of grant recipients. In addition to cost-share grants for individuals, the program included grant funding for larger Demonstration Neighborhoods run by cities, neighborhoods, and other organizations. Beyond Lawns to Legumes grants, nearly 8,000 people participated in workshops and presentations focused on planting for pollinators through bee lawns, pocket plantings, and other DIY projects.
Small But Mighty
Lawns to Legumes individual grant projects have ranged in size from 10' x 10' plantings on small city lots to larger pollinator meadows. When it comes to creating pollinator habitat, even small contributions can make a big difference! Take Briana Erickson, a spring 2022 Lawns to Legumes grant recipient, who created a pollinator garden on a boulevard strip in front of her house. "The garden planning and excavation was difficult," Briana shared. "But the end result is incredible." Check out the progression of her garden in the months after planting—while it takes time for a native garden to establish in the beginning, it pays off with big benefits for both people and pollinators in the long run.
Many of the remaining populations of the rusty patched bumblebee have been found in residential areas of towns and cities, and residential pollinator plantings play an important role in supporting this federally endangered species. Pollinators like the rusty patched bumblebee fly from patch to patch of habitat for foraging. They can only travel so far before they need to fuel up again to continue on their way. Adding native plants to enough yards, even in developed areas, can form a network of high-quality habitat that help pollinators thrive.
Looking Forward
Phase two of the program has around two million dollars of LCCMR funding and is currently underway, with spring 2023 grantees now starting their projects. Some exciting changes this year have been the introduction of our new Resilient Shorelines workshop and our Resilient Yards online Learning Series, available to all Minnesota residents at no charge. Lawns to Legumes grantees have also been connecting on our new online community, The Hive. 
All our work to create connected pollinator corridors across our neighborhoods has happened with support of our partners. Monarch Joint Venture, the City of Minneapolis, Blue Thumb Partners, and Minnesota GreenCorps members, as well as grant participants and volunteer coaches, have contributed time and finances that have built our efforts into this growing movement. 
Current and upcoming developments include a partnership with the US Fish and Wildlife Service to offer Lawns to Legumes vouchers to renters in multifamily housing, reducing barriers to gardening for those who don't have yard space. With Metro Blooms, we are teaming up with Wilderness in the City to convert turf to pollinator gardens in five regional parks in 2023: Battle Creek, Theodore Wirth, Keller Lake, Phalen Lake and Lebanon Hills Regional Parks. Each of these demonstration gardens will be in highly visible locations and offer examples of plantings that individuals can adopt in their own landscape. 
Let's reverse pollinator decline together! Lawns to Legumes is currently accepting new applications for our fall 2023 cohort. And if you're eager to plant for pollinators this spring, you can check out the Blue Thumb and Minnesota Board of Water and Soil Resources websites for information on projects like pocket gardens, pollinator lawns, how to design your project, and more. We've listed some resources below to help you get started.
Resources:
The Lawns to Legumes program comes through the state Board of Water and Soil Resources and is funded by the Environment and Natural Resources Trust Fund. The Monarch Joint Venture and the US Fish and Wildlife Service also support Lawns to Legumes. Blue Thumb manages the individual cost-share program.
– Megan Reich, Metro Blooms Communications and Program Specialist