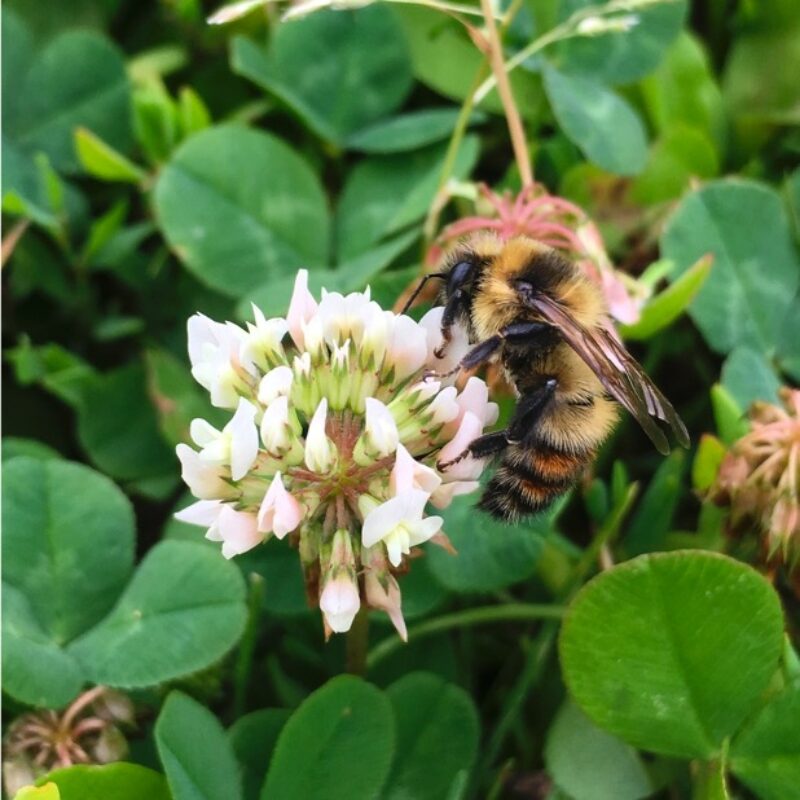 Minnesota bees are rising from their winter slumber. Some native bees overwinter underground; others are cavity-nesters and find refuge in hollow sticks and stems. Different bee species emerge at different times, some as early as mid-April, others well into summer. But they all have one thing in common: when they emerge, they are hungry.
Bees rely on nectar and pollen to survive. Nectar gives them sugar-packed energy; pollen feeds bee larvae and offers bees protein and nutrients. When bees pick up pollen, they also transfer it between plants, facilitating essential pollination services that help plants reproduce. By helping plants thrive, bees play an important role in creating food and habitat for other wildlife.
But this can't happen when bees don't have enough to eat. And in early spring, especially in urban areas, resources can be scarce. We can all help emerging bees by making choices in our yard that protect their shelter and food sources.
Enter No Mow May, a growing movement that encourages people to delay lawn mowing so that bees can emerge from their winter shelter without disruption and have a chance to fuel up on low-growing blooms like dandelions, violets, and clover.
But it's not as simple as letting the lawn be. We've called on three of our landscape design partners and one trailblazing city to share with us how pollinator-friendly lawn care can be a year-round practice — with less of the back-breaking work..
Letting Lawns Bloom
In 2022, the City of Edina, with the recommendation of The Energy and Environment Commission, approved its first No Mow May program. "Residents in Edina asked for it," shares Grace Hancock, Sustainability Manager with the City of Edina.
Throughout the month, the City temporarily suspends their turf and weed ordinances, allowing lawns longer than 10 inches without penalty. Residents sign up to participate and receive a reusable yard sign to display, and are encouraged to attend city-sponsored Blue Thumb Resilient Yards workshops to learn more about sustainable lawn care.
Now, Edina is in its second round of the program. "Its first year was very successful," Hancock says. "Complaints about long lawns in May went from an average of 50-60 to zero, which allowed City Parks staff to focus on critical springtime work like planting trees and pruning overwintered plants instead of enforcing the turf and weed ordinance."
This year, Edina is recommending not mowing more than one-third of a grass blade's height at one time, which can stress out and even kill turf. Instead, gradually mow down in small increments and reduce mowing sessions to every 2-3 weeks. Some landscape experts call this approach to mowing "Slow Mow Summer," moving beyond the implication that pollinator-friendly practices only have to happen in one month.
"Try to keep your grass more than three inches high," shares Kat Dickerson of Rock Leaf Water Environmental. "This will cool your soil, help with water uptake, and have more established roots for erosion control." Taller grass also shades out undesirable weeds and conceals flowering food sources for bees. When it comes to watering, aim for early morning or evening when pollinators are less active.
Bringing on the Bee Lawn
Want to take the next step? Consider reseeding part or all of your turf with slow-growing fescue blends and even add low-growing flowering species like creeping thyme, self-heal, and Dutch white clover. These turf alternatives require fewer inputs (mowing, watering, chemicals) and better support foraging pollinators. Typical lawn weeds have a hard time competing with the native species in turf alternatives. An added bonus is the blooms. "I actually appreciate having a few violets, clovers, and dandelions growing in my yard," says Dickerson. "It's also pretty cute to watch my four-year-old make me a bouquet now and then."
"Think about a transition," says Shannon McWalters of Light Dark Landscape. "You'll be a part of the solution by adding food sources, biodiversity, and an interesting textural look to areas that are a traditional food desert to pollinators." Or, McWalter and Noren share, you can get rid of "lawn" altogether by creating planting beds filled with native perennials, shrubs, and trees.
Mike Mesch of Dogwood Designs is always eager to discuss different turfgrass alternatives with his clients:"We are big on no-mow fescue blends. Sometimes we will mix in clover and thyme to help pollinators." If you're ready to make the switch, Mesch recommends doing so in the spring or fall, or right before the first frost or snow event in late fall during "dormant seeding" season.
A Year-Round Movement
No Mow May can help jumpstart sustainable lawn care practices that support pollinators year-round. It might just be one month, but there are a lot of actions Minnesotans can take to build on the momentum— whether it be switching to less frequent mowing, converting to bee lawn mix, or incorporating more native perennials into a yard.
As the City of Edina launches into the second year of No Mow May, Hancock is excited to see what lasting changes might result from the program. "Staff is also reviewing how to make some tenants of No Mow May permanent," she says. "This includes potentially changing City Code to allow longer grasses, and shrinking setbacks to allow more of a home lawn to be transitioned to non-turf ground coverings." Most importantly, residents are proud to participate in a group effort to make a difference for the environment.
Are you ready to BEE the change for pollinators this year? Blue Thumb's free Resilient Yards Online Learning Series is a great resource for learning more about the steps involved in converting your yard to a DIY bee lawn or turf alternative. Lawns to Legumes offers cost-share grants of up to $350 for installing a bee lawn or other native planting project to help out pollinators (applications are open for the Fall 2023 season through June 30).
More Resources
– Megan Reich, Metro Blooms Communications and Program Specialist