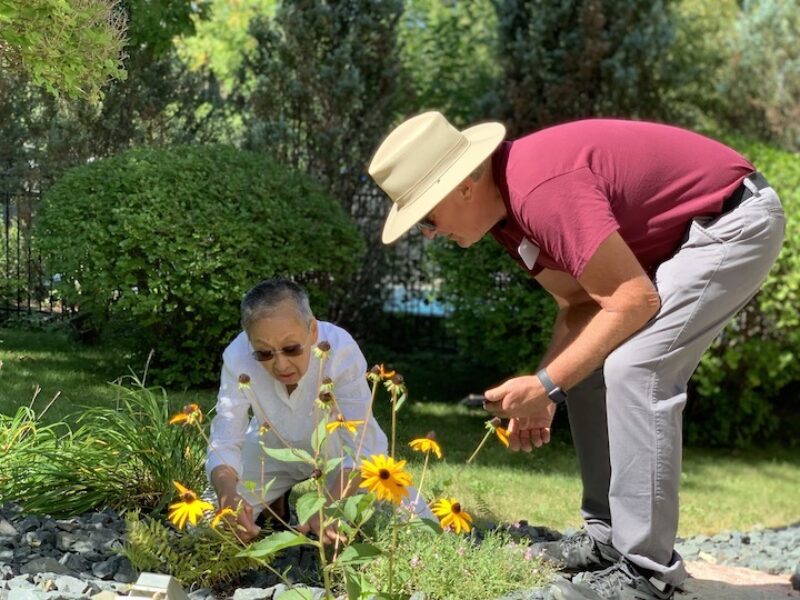 Orapat Sivatanpisit planted her first garden this past summer. It's in her front yard, in what was once all lawn. The bees are happy. So is Orapat. Her goal was to create a pollinator garden, and she succeeded — with a little help from a friend.
She planted her garden after receiving a cost-share grant from Lawns to Legumes, an innovative program that provides funding and other resources to Minnesota residents to create habitat for pollinators. What's even better is she didn't have to do it alone. Lawns to Legumes matches grantees with coaches, most of them volunteers. And this feature of the program is what Orapat credits to the success of her garden.
Lawns to Legumes comes through the state Board of Water and Soil Resources (BWSR). Currently Minnesota residents can apply for up to $300 to create habitat for pollinators in their yards. Grantees can receive coaching if they want it. The program also offers workshops and other downloadable resources free for anybody to use. The program seeks to encourage people to take action to support our declining populations of pollinators, especially the endangered rusty patched bumble bee. Blue Thumb manages the grant process and provides resources for Lawns to Legumes.
Orapat had little experience gardening. In years past, motivated by a friend, she would occasionally buy plants and put them in the ground. Usually they would die. Then she started learning more about the plight of pollinators, and she wanted a yard that was friendlier to bees and butterflies. So when she heard about Lawns to Legumes, she applied, and she received a grant. She was matched with Robert Hatlevig, a Master Gardener with a special interest in planting for pollinators. He had already coached several Lawns to Legumes grant recipients, and had received a grant himself the year before.
The two made contact and quickly went to work. Robert came by and they talked about the location and shape of the garden. A sunny spot would be ideal. Also, Orapat wanted it in the front yard so others could see what a pollinator garden looks like, and enjoy it, too. They chose a corner of the yard, for an L-shaped garden. They put down cardboard to kill the grass. Later they met at a nursery to choose plants, and then they planted the garden. It all happened within a week. In addition, Robert advised Orapat on creating areas of bee lawn in her yard.
Orapat spoke wonderingly about how much she learned from Robert in such a short time. "I felt really good," Orapat said. "I felt like, yes, I really have a pollinator garden."
Robert pointed to Orapat's enthusiasm as a major factor in how quickly the project came together. It's very easy to lengthen the process to the point that you start to lose enthusiasm, he said, and Orapat was enthusiastic, decisive and ready to learn.
More than anything, he observed, some grantees just needed a little encouragement. Many people know a lot already, but are worried that the plants won't look good, or won't grow, or might die. "They just need someone to give them the confidence to actually dig in the ground," he said.
What does Orapat like best about her Lawns to Legumes project? She likes looking outside the window at the flowers in her front yard where grass used to be. "Now I see bees coming, I see butterflies coming," Orapat said. "That's how I enjoy the garden."
— Aleli Balagtas, Metro Blooms Communications Editor
---
Lawns to Legumes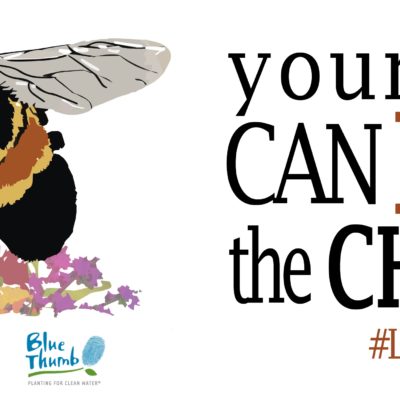 Lawns to Legumes comes through the Minnesota Board of Water and Soil Resources. The program provides cost-share grants and other resources to help Minnesota residents create pollinator habitat in their yards. By planting pocket gardens, trees and shrubs, and pollinator lawns and meadows, participants help conserve at-risk species of pollinators, including the endangered rusty patched bumble bee, the Minnesota state bee.
The deadline for applying for a Lawns to Legumes cost-share grant is Feb. 15, 2022. Apply here.
Are you interested in coaching? Learn more here.