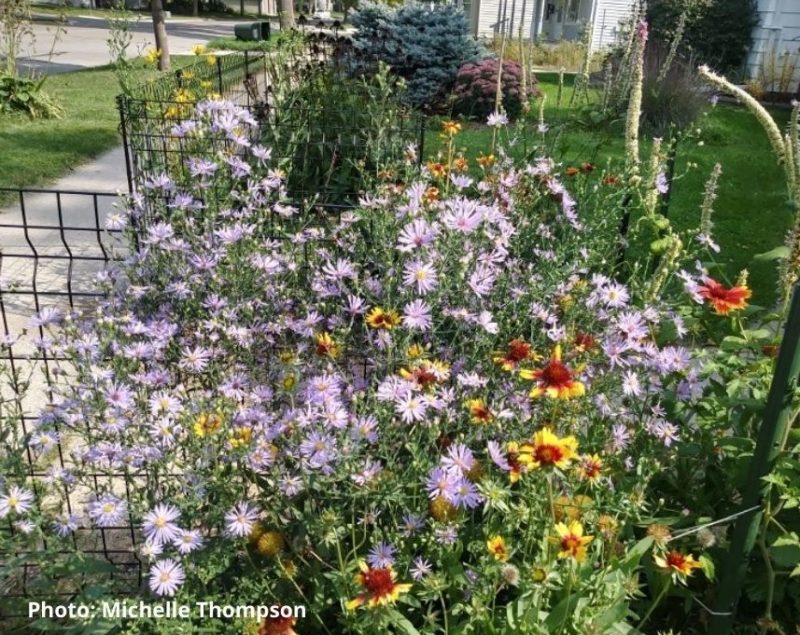 In 2020 many Minnesotans enthusiastically rose to the challenge of protecting pollinators in their yards through Lawns to Legumes, a state Board of Water and Soil Resources (BWSR) program to empower people towards a more sustainable and pollinator-friendly Minnesota. Blue Thumb was selected to help put the program into action. A major goal of  L2L is to help Minnesota residents from all around the state plant part of their yard with native plants in the name of pollinator protection, with a special emphasis on protecting Minnesota's state bee, the endangered rusty patched bumble bee.
We've been working on this project for over a year, conducting educational workshops for residents, matching program participants with coaches, and even partnering with communities on demonstration neighborhood projects that seek to transform entire neighborhoods into long stretches of pollinator habitat. We did this with much help from our partners including BWSR, conservation and watershed districts, Master Gardeners and other groups. Since the day this project began, we have been amazed by the level of interest Minnesotans have expressed in this program.
In the first week after opening the grant application portal, we received over 1000 applications, enough to successfully distribute all the funding designated for individual awards.  While this would be a major success on its own, we were delighted to see that the enthusiasm for this program never faltered, with almost 8000 Minnesota residents applying for individual support grants.  We awarded 850 grants, and recipients got to work.
As winter turned to spring, the ice melted away and Metro Blooms began tracking native plant installations across the state through the "Map Your Completed Project" page on the Blue Thumb website. All Minnesota residents who install native plants can map their plantings — not just L2L project participants. (If you haven't mapped your project yet, we encourage you to do so!) In 2020, 156 Minnesota residents mapped their plantings, and this included 104 L2L participants who completed their projects before cold weather set in. Projects submitted to the map by L2L participants, or were inspired by the program, totaled over 350,000 square feet of native plantings and more than 600 trees!
L2L participants shared photos of their work. There was a wide variety of plantings, in all shapes and sizes, that covered the categories created by L2L. These included pocket plantings, pollinator lawns, pollinator trees and shrubs, and pollinator meadows. We even received a photo of a rusty patched bumble bee on an L2L planting!
Minnesotan investment in a greener pollinator future
Minnesotans have demonstrated strong commitment through their investment of time and resources. By the end of 2020, the L2L program had spent just over $33,000 to reimburse Minnesotans who had received an individual support grant and completed their projects.  Grantees were supposed to provide a 25 percent match (in materials or time, for example). But they went above and beyond expectations. In fact, residents who submitted for reimbursement had invested more than $76,000 out of their own pockets, more than double the amount awarded to them by the state.
The money spent as a result of this program helps to support the nurseries, contractors, and other green infrastructure professionals that help us reimagine how we can design our home landscapes.  Minnesota Native Landscapes, a Blue Thumb partner, saw an immediate impact.  "In 2020, MNL saw a large increase in general interest in native plantings and sales to residential homeowners. We know many of these individuals were Lawns to Legumes grant recipients seeking our L2L specific products, but we also know many were not selected for the grant and chose to seek out native plantings regardless," said Bre Bauerly, outreach coordinator for MNL. "Our online sales of native plant kits, native seed mixes, and bee lawn seed were all considerably higher than previous growing seasons. I think regardless of whether the grants were awarded to an individual or not, they had learned more about supporting local pollinators through the program and felt compelled to incorporate native habitat into their surroundings."
Participants also invested time. In the first 91 projects that were reimbursed, participants accumulated more than 2500 in-kind volunteer hours, or an average of 27.6 volunteer hours per person.  This included time spent on activities like removing turf and planting.  When we consider that the state of Minnesota values in-kind work at $25/hour, the time Minnesotans  spent working on their Lawns to Legumes projects is valued at over $62,000. 
For some people, this initial work is only the beginning. Participant Michele Schluender took advantage of the many resources available through the program to educate herself and views her project as something she can add to over time, increasing the beauty and ecological value of her yard: "I attended a class with L2L and made use of the handouts and coaching to make sure that I was on the right track.  I doubled the size of my front yard prairie this summer and so far it looks great! I can't wait to see it in the spring when it begins to fill in more.  My favorite flowers are the Prairie Smoke and Rattlesnake Master.  My long term goal is to hack away at the lawn bit by bit, year by year, until there's nothing left except pollinators and pollinator-friendly native plants."
Looking back over 2020, so unprecedented in so many ways, we are overwhelmed with the enthusiasm, energy and creativity of the participants, and by the incredible support from the agencies and organizations that worked together to make Lawns to Legumes a success in its first year.
Update: We are awaiting legislative action later this spring on the continuation of Lawns to Legumes.
---
James Wolfin, Sustainable Landcare Manager, Metro Blooms, James manages Lawns to Legumes' individual grant program for Blue Thumb.