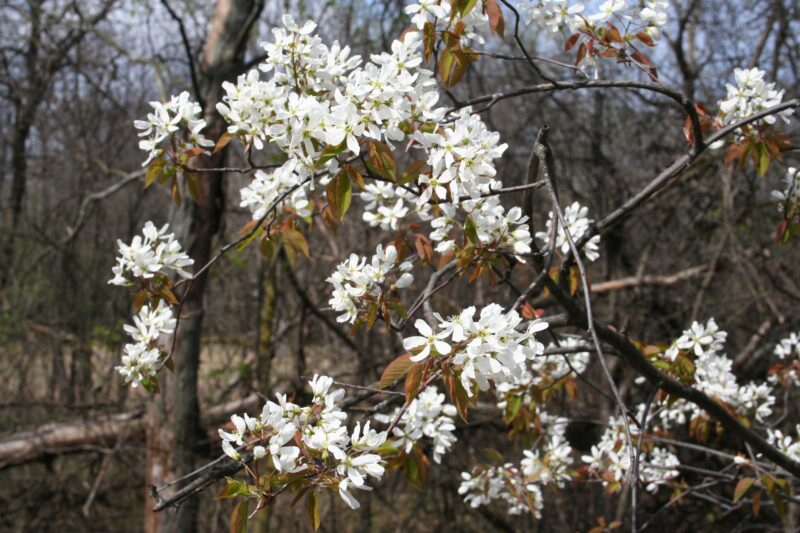 Type:

Light Exposure:

Soil Moisture:

Height:

30 feet

Project:

Bloom Color:

Bloom Months:

Flooding / Inundation Tolerance:

Salt Tolerance:

Stress Tolerance:

Herbivore Sensitivity:

Behavior (Rate of Spread):

Pollinator Value:

Benefit to Pollinators:

Pollinators:

Counties:
Notes/Description:
Large, deciduous, multistem shrub or short tree with upright, undulating branches that is usually 20-30' tall. WHen planted in groups is suitable for wildlife habitat plantings, such as sreens or hedges, and have shade and ornamental value. It also withstands wind and ice damage fairly well. Allegheny Serviceberry is a native tree for all seasons. In April and May it has beautiful white flowers that are delicately scented and provide nectar for the season's early bees and butterflies. In mid summer its fruits ripen to brilliant violet pink, aging to deep blue purple when fully ripe. Its leaves play occasional host to the larvae of viceroy, striped hairstreak, and Canadian tiger swallowtail butterflies. And the grand finale comes in fall with brilliant oranges, yellows and reds as the leaves prepare to drop. Amelanchier laevis is found in moist woods and meadows, but tolerates most any garden situation. It will bloom more in full sun, but have a more open and graceful habit in shade. It is drought tolerant once established, but will grow taller and faster in consistently moist soils. Amelanchier can be grown as a small tree pruned to become a densely branched shrub. Fragrant spring flowers Easy to grow and widely adaptable Edible berries in summer Gorgeous fall color.