Become a Blue Thumb Partner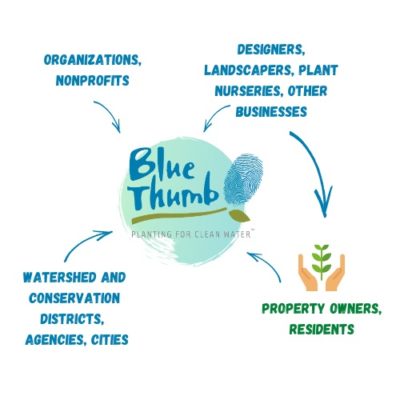 How Blue Thumb Partnership Works
Blue Thumb is a resource hub for creating resilient landscapes. Our network — Blue Thumb Partners — connects those who work in this field with each other and with customers who want to make positive change in their yard. Property owners come to us for expertise. On our website you'll find resources on native plants, designers to consult on a landscape renovation, where to buy bee lawn seed or grants to help pay for raingardens projects. We also meet the public, through popular DIY workshops and exhibits at the Minnesota State Fair and other events in the Twin Cities Metro.
General Partner Benefits
Website: A One-Stop Source
Our website is a one-stop source for property owners looking to learn more about planting for clean water. It includes a plant finder tool, DIY instructions and videos, grant opportunities, clean water and pollinator events, and a partner finder tool that connect gardeners with Blue Thumb partners.
Education, Outreach and Marketing Expertise
We help shape the conversation about planting for clean water! Blue Thumb uses our growing presence on social media, our website, and our presence at events  and workshops to call attention to:
the problem of runoff and actions that people can take to address it.
clean water news and events.
the efforts of our Blue Thumb partners.
Professional Development and Networking
Blue Thumb Partners are part of a robust and diverse network. Partner meetings provide opportunities for hands-on professional development on timely topics such as turf alternatives,  stormwater benefits of trees, clean water communication and planting to protect pollinators.
Value to Private Partners
Access to home gardeners through our Blue Thumb workshops: Workshop attendees receive a folder with partner materials and also meet with partner landscape designers to talk about their properties.
Presence on our online partner finder tool which refers hundreds of website visitors each year.
Our presence at the Minnesota State Fair and other events presents opportunities to meet potential clients interested in creating ecologically resilient landscapes.
Blue Thumb helps highlight companies that have an environmental focus and clean-water expertise.
Value to Public Partners
Discounts for Resilient Yards, Turf Alternatives, or Healthy Soils Workshops.
Access to informational handouts and educational displays for education and outreach.
Blue Thumb workshops for residents help reach MS4 permitting requirements and educational goals, are demonstrated to help attendees convert knowledge into action.
Blue Thumb's online partner finder tool: refer residents here, avoiding favoritism when they ask for business recommendations.
Extra help publicizing clean water events, programs, activities and other ways to get involved.
Offset Partner Fees Through Volunteering
Our fee structure will ensure that the Blue Thumb program is able to achieve our vision and offer the benefits outlined above. In 2020, members may continue to fulfill up to 50% of fees with volunteer action hours. The 2020 fee structure includes opportunities for partners to complete volunteer action hours to cover up to 50% of their partner fees, but a cash portion is required to continue to receive all the benefits of membership. Each action hour is counted as a $50 contribution. "Volunteer action hours" are limited to defined activities as listed on the following page. Any unfulfilled volunteer hours will be invoiced at year end. Of course, your volunteer involvement is encouraged whether or not you provide the full cash contribution to the program. See the Partner Agreement for more information.
2020 Blue Thumb Partner Agreement Form